References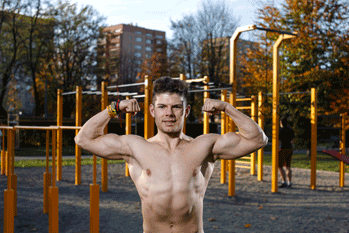 "I have known FlowParks company before I even start training street workout. First training was on FlowPark which was built in Skawina, near Cracow. That construction is standing there until today, it is well kept, stable and you do not have to worry if something going to happen because of the top quality equipment. I have never seen such a good quality in street workout equipment. They are doing great job! We have so many shows behind us which took place always on their mobile construction, which has no equal and it handle even the most dynamic elements.
Last year (2018) I took part in WSWCF World Championships in Latvia and in competition in The Netherlands, where FlowParks were supporting me during those events. I value cooperation with them, and there weren't any problems, for my questions they always respond immediately. In the competition in the Netherlands, main construction was from FlowParks, where competition took place 2 days. Wherever I have been to for competition, that was the best place to compete and fight, despite huge weights, dynamic elements, tugs, it was so stable. Every competitor that I have talked with, appreciated mobile FlowPark. In my opinion but also many others, there is no better company in Poland, which is designing and manufacturing street workout and parkour equipment. To be honest, I highly recommend FlowParks, you have to check their equipment."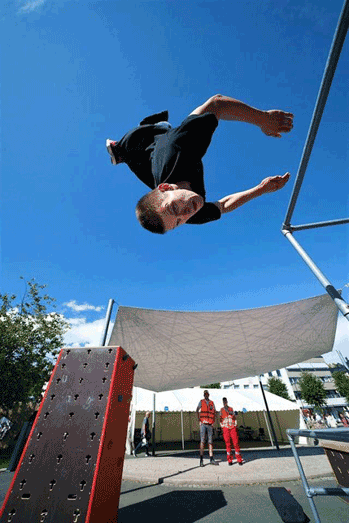 "First contact with FlowPark I had in Nidzica, where my mates were building first FlowPark for street workout in this city. Spot came out as a first class. Despite it was almost 5 years ago, construction is still well kept, stable and strong. I am training parkour, so every construction that I am jumping on has to have +1000 for being strong. FlowParks are just like that. In 2016 I have visited another FlowPark, in Norway. Without any doubts it was the best park that I have ever been to. Each of them is a result of a really good work.
I had opportunity to travel a lot all around the world, I have seen many constructions for parkour or street workout, and I can say without shame, that FlowParks is one of the best in the world if it comes to quality. Our cooperation began in 2016. I can't tell anything bad about people which are working there, they are supporting me, my passion, my trips. They are just good people ???? If anyone would ask me about company which is manufacturing parkour parks and street workout parks, or just people who have passion, definetely my first answer would be FlowParks."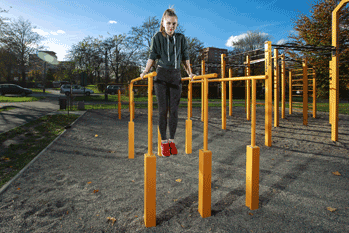 "FlowParks – parks where I spent hundreds of hours while I was learning and trying my first pull up, but also years later, while preparing for World Championships. FlowParks is with polish street workout since the begining. They made first, professional park in Cracow. Since this day street workout parks are getting more and more popular. Those constructions are one of the few, with appropriate diameter and texture of bars. Thanks to that important thing, it is possible to do basic street workout elements, but also which is the most important, advanced dynamic and static elements.
It is also because of spacing the bars, they know what they do – they consult details directly with users and athletes. Their mobile constructions have been accompanying us during every show. Second year in a row there were Street Workout Polish Championships on those constructions. Bars which are in GoJump Kraków allowed us to train safe also during winter season.
As an athlete I think, that FlowParks is one from the few companies that meet the safety standards, thanks to stability and proffesional finishing of all details.
Since the beginning of the FlowParks, we cooperate with Techramps Group. We are creating our Group with such brands as: Techramps, Wakepro, Pumptrack.eu, Slo Concept, Waveramps. Together we create Sports Facilities of XXI century, which are urban sports area, which give possibility to spend active free time.